78' (24m) 'Larimar' - lying, Turkey.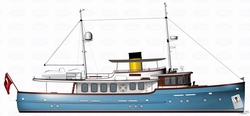 Deluxe Class Motor Yacht (Little Ship)
For Sale
Launched in 2011. Built by Yener Deniz and Naval Architect O.Tanju Kalaycioglu, in Tuzla Istanbul
6 guests in 3 deluxe cabins (1 Master; 2 VIP Twins)
Perfect for a family of 6 or 3 Couples.
This vessel is beautifully crafted and a fine example of Turkish craftsmanship. The entire vessel has a polished finish. She was presented at the Marmaris International Yacht Festival and was celebrated by Brokers from around the world as the most beautiful little ship.
Setting sail for Gocek from Marmaris Turkey in May 2012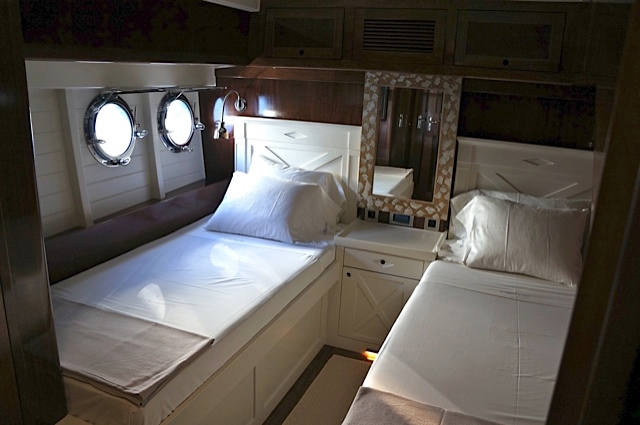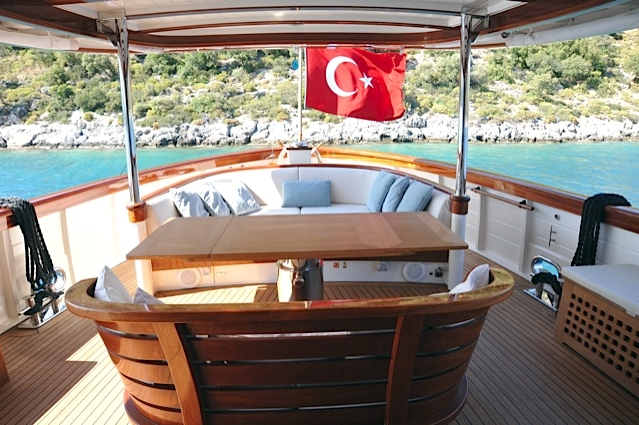 Base Port: Gocek, Turkey (15 minutes by Taxi from Dalaman Airport, 1 hour flying time from Istanbul)
Also from Bodrum (45 minutes from Bodrum Milas Airport 1 hour flying time from Istanbul)

On board: Quality staff of 3 (excellent chef); 50 hp outboard with 4.2m Zodiac Rib (2.3m tender with 2.3hp for the crew), water skis, Inflatable kayak canoe, snorkeling gear. Stereo Systems in salon, flybridbrige and master cabin; TV/DVD in salon and master cabin (DVD library); Easy water access via the port side paserel. Satellite TV, WiFi.
See website for more details.
Booking Contacts:
Contact: Andrew Hanna of Ocean Partners International (Surface 1921 Ltd.) UK
Tel. +44 207 580 3445 Mobile +44 7836 674 300


Contact: Andrew Hanna on

Ocean Partners International in conjunction with The Yacht Charter Cub, (Surface 1921 Ltd)
UK Registered Office Address: Ocean Partners International, 3 Bank Buildings, 149 High Street, Cranleigh, Surrey, GU6 8BB, UK.
Tel. 020-7580 3445 Mobile +44 7836 674 300
Web design Office in France:
18 rue de Thire, Saint Valerien, 85570 France
Tel. +33 632 802 632
Yachting Specialists Serving clients from the four corners of the globe.
Cranleigh, ENGLAND - St.Valerien, FRANCE (Web Design)- Bodrum TURKEY
Disclaimer: All information contained herein is presented in good faith and subject to change, errors, and omissions at any time. Accuracy and reliability of such information is neither guaranteed or warranted. Specifications, measurements, and product data are for generalized informational purposes only. All details contained herein neither represent or warrant the full inventory of the yacht and are presented as an overview list. All yachts are subject to availability and this web site makes no representations as to scheduling, location, and availability. This web site information is provided on an "as is" basis. The user expressly agrees that the use of the website is at the user's sole risk. Neither Surface 1921 Ltd., Ocean Partners International, principals, officers, employees, third party content providers, and affiliated entities, assume any liability whatsoever either expressed or implied, for the use of this web site and all associated features, programming, coding, and links. Surface 1921 Ltd., Ocean Partners International makes no representation of the web site being error free. The user of this web site shall hold Surface 1921 Ltd., Ocean Partners International harmless for any loss of business, damages, delays, interruptions, or damages from the use of this web site and all its features. All Rights Reserved.
This page, and all contents Copyright © 1998 by Surface 1921 Ltd., London, United Kingdom.