80' (25m) 'Splendido' - Turkey.
Quietly For Sale - Try before you buy
Ferretti 80, Italy - Getting places in Style at 20/27 knots
8 Guests in 4 ensuite cabins (1 Master; 1 VIP Double, 1 Double (can be twin) , another smaller double.)
Prefect for a family of 8 or 4 Couples (or family as 1 double is convertible)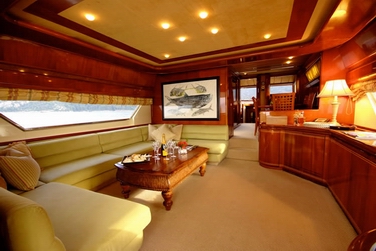 Above the Master Suite and left the Salon.


Base Port: Marmaris, Turkey
Flag: St.Vincent; Registered: Kingstown (Launched 1999)
Classic Ferretti at it's very best. This vessel maintained to the highest level by a very loving owner. She is in excellent condition and ready to go cruising. Wifi and all modern communications are at your disposal. Perfect for 4 couples or 8 guests if a family. Typical of the quality Ferretti design she is very comfortable for a 25m vessel. Entering from Aft deck, full width salon and dining area, bar. On lower deck: Full width ensuite Master cabin amidships; VIP cabin forward also full width and ensuite; Double VIP Cabin ensuite (can also be converted to twin beds); Smaller double ensuite cabin. Sun deck and flybridge. Foredeck available for sun worshippers. Aft deck for 'al fresco' dining and easy access to the clear blue sea.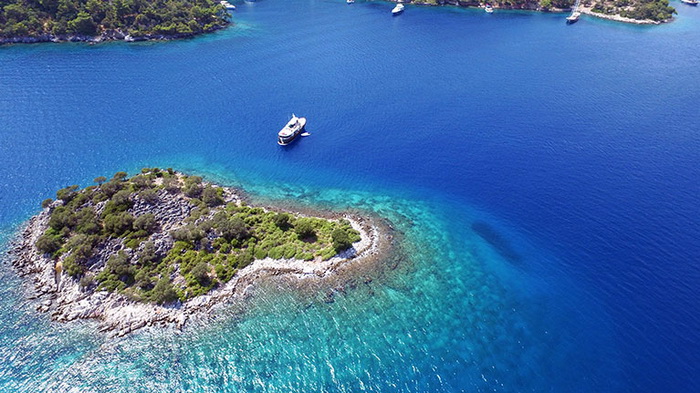 Consumption is 400lt an hour cruising at 20knots, including generators.
Owners Agent Surface 1921 Ltd. Client Trust Account (MYBA Terms)
Captain Ramazan is Turkish and also speaks Greek.
The Layout showing the convertible twin bed. This can be converted to a double bed.
Updated 17 Dec 2020
Owners Contacts:
Contact: Andrew Hanna of Ocean Partners International (Surface 1921 Ltd.) UK
Tel. +44 207 580 3445 Mobile +44 7836 674 300


Contact: Andrew Hanna on

Ocean Partners International in conjunction with The Yacht Charter Cub, (Surface 1921 Ltd)
UK Registered Office Address: Ocean Partners International, 3 Bank Buildings, 149 High Street, Cranleigh, Surrey, GU6 8BB, UK.
Tel. 020-7580 3445 Mobile +44 7836 674 300
Web design Office in France:
18 rue de Thire, Saint Valerien, 85570 France
Tel. +33 632 802 632
Yachting Specialists Serving clients from the four corners of the globe.
Cranleigh, ENGLAND - St.Valerien, FRANCE (Web Design)- Bodrum TURKEY
Disclaimer: All information contained herein is presented in good faith and subject to change, errors, and omissions at any time. Accuracy and reliability of such information is neither guaranteed or warranted. Specifications, measurements, and product data are for generalized informational purposes only. All details contained herein neither represent or warrant the full inventory of the yacht and are presented as an overview list. All yachts are subject to availability and this web site makes no representations as to scheduling, location, and availability. This web site information is provided on an "as is" basis. The user expressly agrees that the use of the website is at the user's sole risk. Neither Surface 1921 Ltd., Ocean Partners International, principals, officers, employees, third party content providers, and affiliated entities, assume any liability whatsoever either expressed or implied, for the use of this web site and all associated features, programming, coding, and links. Surface 1921 Ltd., Ocean Partners International makes no representation of the web site being error free. The user of this web site shall hold Surface 1921 Ltd., Ocean Partners International harmless for any loss of business, damages, delays, interruptions, or damages from the use of this web site and all its features. All Rights Reserved.
This page, and all contents Copyright © 1998 by Surface 1921 Ltd., London, United Kingdom.